You are here
From Waste to Win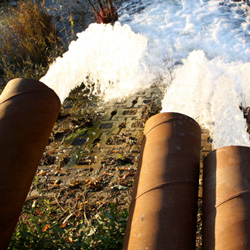 How 3 startups are redefining wastewater management.
Burgeoning disruptors flush with new capital, these three startups stand to turn waste into windfalls for customers (and the planet). See how they're flipping traditional wastewater management on its head - and doing it for less.
Axine Water Technologies: A promising Canadian upstart, Axine provides a one-step process to efficiently treat industrial wastewater – often high in toxic inorganics and ammonia - allowing it to be safely recycled. Unlike conventional water treatment methods, Axine's hyper-efficient processing doesn't require supporting electrolytes and won't experience fouling. Impressed? You're not alone. Axine continues to bolster investment and just completed a capital raise of $5.6 million CAD ($5.1 million USD) from The Roda Group, Chrsaliz Energy Ventures, and BDC Venture Capital.
Gradek Energy: Fellow Canadian startup, Gradek Energy feeds another niche with a unique approach to processing wastewater from oil sands production. Gradek's core technology, Re-usable Hydrocarbon Sorbent (RHS)](http://www.gradekenergy.com/#technology), uses penny-sized beads that attract hydrocarbons like a magnet, while simultaneously repelling water. In turn, allowing the RHS to recover oil from polluted steams and rivers, leaving clean fresh water behind. A promising new technology, Gradek Energy announced plans to open its first commercial demo plant as early as June 2015.
Cambrian Innovation: Last but not least is Cambrian Innovation. Initially fueled by a NASA grant, the startup was officially founded in 2006 by an MIT brain trust looking to cut energy usage during wastewater treatment. Cambrian Innovation's flagship product, EcoVolt, uses 'electromethanogenesis' to create a significant amount of energy to offset the initial energy spent. Offering a scalable, cost-effective solution the company claims will provide customers with full return on their investments in five short years.
By Remi Dalton