You are here
Thriving in the Land of Giants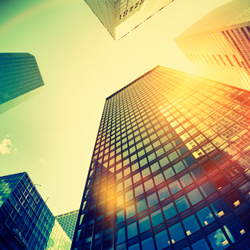 When it comes to ad industry mergers, the birth of Publicis Omnicom Group (ticker: OMC) is one for the history books.
Aside from the eye-popping $35 billion of projected revenues, it places Publicis CEO Maurice Levy and Omnicom CEO John Wren as co-CEOs of the world's largest ad company.
While Levy and Wren enjoy the honeymoon glow of their corporate marriage, internal operations teams face months (if not years) of obstacles. The first challenges: resolving client conflicts and getting thousands of former competitive agencies to be one big happy family.
Those adjustments also come with consolidating disparate corporate strategies and potential C-level power struggles, all under intense, global scrutiny.
As WPP Group CEO Sir Martin Sorrell put it bluntly in a recent Bloomberg TV interview:
"There's going to be considerable uncertainty over the next 30 months as both organizations struggle for control. There is no such thing as a merger of equals… there are only things such as acquisitions…it's all a question about who's going to run the company."
No matter your stance on the big news, this is a watershed moment. Industry shifts will take place gradually, of course, but once the dust settles we'll be looking at a very different landscape.
Client Conflicts and Frustration
As Sir Martin Sorrell explained on Bloomberg TV, "Clients and people will reassess their plans, reassess their arrangements and it's a big organic opportunity for WPP."
It's not just WPP who stands to benefit, it's agencies large and small. No matter how many assurances and high-end dinners Publicis Omnicom host, clients are not going to be happy.
Promises of big data, more global access, and better talent give way in the end to the harsh realities of higher rates, intensified bureaucracy and rising account conflicts. Take for instance Pepsi and Coca Cola, who suddenly find themselves under the same umbrella agency overnight. No amount of potential value will keep them from feeling uneasy or downright agitated.
As big-name brands review their options, brand executives may find themselves drawn to smaller shops for fresh ideas and more nimble operations.
Thinking Small
As the powerhouses slug it out for number one, regulators will be watching carefully and have the potential to create serious obstacles for major mergers in the future.
In the wake of regulatory pressure, smaller firms may gain ground. Free from archaic processes, layers of management and, let's not forget Lotus Notes, boutique agencies have an opportunity to deliver larger projects more efficiently.
Thanks to a potential influx of quality talent looking to move, mid-sized firms can also boost their credibility and gain attention from larger clients previously out of reach.
Rifts and Talent Migration
Like tourists to lifeboats, skilled technical directors, creatives and higher-level leadership will be looking to jump ship. And, they'll have their pick of places to land.
Competitors such as WPP and Havas will provide shiny lures to bring big-name talent into their camps. While smaller firms will serve up tantalizing opportunities for unfettered creativity, leadership and better work-life balance.
Amid these suitors, we're bound to see a rise in spinoffs and small shops, as disenchanted VPs take business into their own hands. It's been done before – take the leadership rift at Leo Burnett in 2012 – and executives may find the appeal of forging their own agencies too tempting to resist.
Whatever's being offered, talent will be in high demand and amid the chaos many will find, or make, new homes.
What's next?
It's only been a week since the big announcement and so far no big moves have been made. One thing remains clear, however: we're entering a new age. Complex. Disparate. Hyper-competitive.
We'll be facing a host of new players – like Google and Facebook – jostling for power, and global clients hunting for new opportunities in their race to the top.
It's survival of the fittest and the nimblest agencies may finally have the upper hand…
Published by: Gretchen Fitzgibbons