You are here
A shot in the arm for solar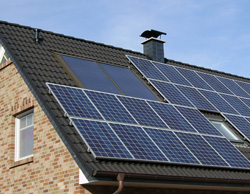 Described as "the Apollo Mission of our time," recent figures suggest the Department of Energy's ambitious drive to achieve grid parity for solar has been embraced by the private sector.
Launched in 2011, the SunShot Initiative's Incubator program invested $17 million in seven companies with the aim of cutting the cost of solar electricity by 75%.
Stimulated by the show of political will, private investors have rushed to support the same companies, to the tune of $1.6 billion in 12 months. Such a flood of private capital shows that, under the right circumstances, business has a good appetite for clean energy.
SunShot aims to lower barriers to solar adoption by bringing the cost-to-consumer down to $0.06 per kilowatt-hour. Their strategies for reaching these goals include:
1) Reducing the cost of PV solar cells while increasing efficiency and new market
2) Shortening the pathway to commercialization for promising technologies and strengthening local solar manufacturing
3) Reducing the cost of concentrating solar power (CSP) and developing utility-scale solutions
4) Investments in education, policy analysis and technical assistances
5) Promoting training within the US workforce to increase solar job creation
Having already brought renewed investment to the sector, it is also hoped that SunShot will reduce some of the "red tape" associated with solar permits and inspections. That could have an equally important affect on solar's commercial attractiveness.
Watch this space for a profile of some of the innovative technologies flowing out of the program.
Posted by: Julia Sparkman
Follow us on twitter @yelloblu.