You are here
How Nest Labs, Uber & View Cleaned Up in 2013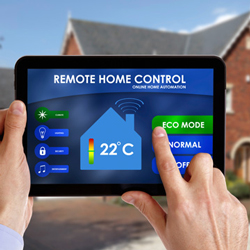 And what it means for cleantech investing prospects in 2014.
You could say cleantech startups started 2014 off with a bang – a big one – as Google shelled out $3.2 billion in cash for home automation company, Nest Labs. This deal isn't just big news for Nest, it's big news for home efficiency and green app companies who see it as the start of more promising investment in the New Year.
To see what lies ahead in 2014, we looked back at three cleantech companies who won big in 2013.
Nest Labs: Former Apple Innovator, Tony Fadel serves as CEO of the home automation company, known mainly for their eco-smart thermostats and smoke alarms. Nest's programmable thermostats use auto-scheduling technology to learn users' daily habits to modulate heating and cooling, while maximizing energy efficiency. The company secured over $80 million in investments in 2013 before striking startup gold with their recent acquisition by the guys at Google.
View: The Silicon Valley startup manufactures "smart windows," capable of absorbing varying amounts of light to provide energy efficient thermal management. In early January 2014, View raised $100 million from private equity firm, Madrone Capital Partners (associated with the Walton family), in order to boost production of its patented View Dynamic Glass technology. What piqued investors' interests? The new technology senses incoming light to automatically transition between four different tints, which reduce heat and glare. Over the past year, View has installed its smart windows into roughly 50 locations across North America including colleges, hospitals, and hotels.
Uber: The car-sharing mobile app, which allows users to hail rides from nearby drivers, secured $258 million in investments in 2013. The San Francisco startup has sparked controversy from legislators and taxi-drivers regarding its low-fares. However, last September the California Public Utilities Commission unanimously approved ridesharing services, marking a milestone in Uber's development.
With the recent influx of green innovations (and new funding), 2014 is shaping up to be a breakthrough year for cleantech.
Produced by Remi Dalton