You are here
Electric Vehicles Unplugged?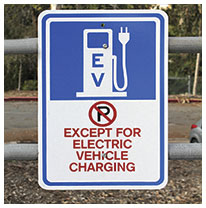 Where these next-generation electric cars are going, we don't need plugs.
In late 2013, Yelloblu reported on the state of the electric vehicle (EV) market, highlighting how improved access to EV charging stations could make eco-friendly cars more appealing to consumers.
Frustrated by the continued lack of convenient charging stations, some automakers are looking to remove the need to plug in altogether and see more sustainable energy sources as the key to EV proliferation.
This past week at CES 2014, for example, Ford unveiled its newest electric concept car, which boasts a series of solar roof panels built into the C-MAX plug-in hybrid.
Solar and EVs might seem like an obvious match, but even after spending an entire day in the sun, the power generated is negligible. Toyota's solar-paneled Prius, for instance, can only harness enough solar energy to run its ventilation fan.
To help resolve low output, Ford's latest prototype pairs their solar car with a specially designed car canopy comprised of an acrylic roof called a "Fresnel lens." Similar to a magnifying glass, the Fresnel lens concentrates the sun's rays during peak hours and transfers them directly onto the vehicle's solar panels, boosting the impact by a factor of eight.
Additionally, as the sun moves across the sky, Ford's prototype is able to independently move back and forth under the canopy – ensuring it's maximizing energy as the sun passes overhead.
After 6 hours of magnified charging, the Ford hybrid is said to be capable of traveling up to 21 miles, a range that covers the average trek for over half of the country's commuters.
While relying on a specially designed solar canopy isn't exactly cost effective, it's a step in the right direction and a promising development for the electric car market. And as the price of solar panels continues to fall, we're getting much closer to spending less plug-in time and more travel time away from the grid – at least, until sunset.
Produced by: Patrick French