You are here
"Crop that": biodiesel can be best of all worlds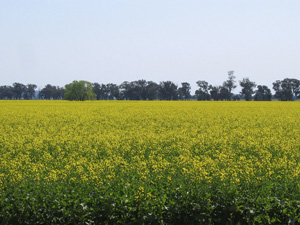 At about 300 million years, nature takes its sweet time turning plant matter into combustible oil.
Attempts to expedite the process through biofuels have been maligned for taking arable land out of food production. Others argue the net energy gain is minimal when agricultural inputs are taken into account.
However, a group of farmers in Western Australia, led by Bev and John Logue, are dispelling some of these myths with a backyard refinery, an intelligent farming system and an eye for win-win-win scenarios.
They're using unwanted fields to produce biodiesel that's kinder to engines, produces more torque and churns out 70% fewer emissions than the mineral alternative. Oh, and the by-product is food.
The feedstock for this best-of-all-worlds scenario is canola, which is grown in the area as a disease break, not a cash crop. Wheat is what makes the Logue's bread, literally and figuratively, but it can't be grown continuously in the same field. That's where the canola comes in. By giving fields a break, it allows wheat-specific plant diseases to subside.
The difficulty was in finding a valuable use for the canola which, given local climatic conditions, didn't produce enough grain or oil for food production.
"We decided to give biodiesel a go so John found refining techniques on the internet and we set up a makeshift refinery in the shed, using an old hot water system," Bev Logue explained. "We made 100 gallons and tried it in the 220 horsepower International tractor. Immediately, we found it could operate at lower revs without stalling and we were sold."
Just a few years later, the Logues were powering half their farm equipment on 15,000 gallons per year and were making plans to go 100% biodiesel.
"The customary diesel rattle is gone; everyone that uses it will tell you how kind it is to engines," Bev continued. "It can be washed off your hands in water and it's biodegradable, so spillage in a waterway won't cause the damage it might otherwise. And the economics add up."
When they started in the early 2000s, the Logues were producing diesel at 40c/gallon, against commercial at-pump prices of $3.60/gallon. The biodiesel costs include transport to and from a crushing facility, where grains are turned to oil. A local crusher would deliver even greater savings and may become a possibility as more local farmers have spotted the advantages of biodiesel and joined the Logues to form the Northern Biodiesel Company.
What's more, the by-product of canola oil extraction is a meal that makes excellent animal feed. Other growers produce biodiesel from mustard seed, which creates a by-product that kills plant diseases and pests in the soil when used as a ferilizer.
Saving money and 300 million years with biodiesel
The Logues begin biodiesel production with the overnight addition of sodium hydroxide to methanol, which creates methoxide. Canola oil enters the mix the next morning and separates into biodiesel and glycerol.
The glycerol settles to the bottom and is drained before the biodiesel goes into a tank where water is misted onto the surface. That causes the raw biodiesel to separate into a layer of water, a layer of soap and a layer of tractor-ready biodiesel.
"It only takes about six hours to convert oil to biodiesel using our plant," Logue said.