You are here
Blue Hawaii Is Going Green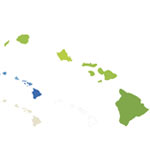 How the island's lush setting became a paradise for green energy startups.
Hawaii's tropical setting long ago solidified the island as a premiere vacation destination. The year-round sunshine, pristine beaches, and lush landscape beckon visitors from around the world. But Hawaii's remote locale and unique environment make it a favorite for another, less obvious group: providers of green energy.
Thanks in large part to an influx of money from the Honolulu-based non-profit Energy Excelerator, green energy startups are flocking to Hawaii to test their innovative technologies on a commercial scale. Energy Excelerator, which just received $30 million from the US Department of Defense's Office of Naval Research, is funded by the US Department of Energy and provides burgeoning clean energy startups with funding, strategic advisors, and powerful networking opportunities.
Hawaii's compact, isolated location makes it the ideal testing ground for budding green energies. Because it's forced to import oil, Hawaii's electricity costs are 3-4 times the national average. Families in Hawaii pay nearly $4,000 per year for electricity, compared with a national average of $1,200 annually. These increased utility costs motivate the state to welcome green energy projects, even if short-term costs are slightly higher.
In addition to funding and financial incentives, Hawaii also has politics on its side. The state's clean energy initiative hopes to transition 70% of energy consumption to clean sources within one generation. Pair money and political backing with an island chain full of over-burdened utility customers, and you're left with an optimal environment for emerging clean energy projects.
Energy Excelerator has already supported 17 innovative energy startups, and they're currently accepting applications for next year. The program matches funds of up to $100,000 for early- stage startups, and as much as $1 million for later-stage companies.
Below are some of Yelloblu's favorites from the Energy Excelerator portfolio:
Referentia Systems
Referentia enables utilities to manage the inconsistent energy inputs of renewable technology sources with real-time data visualizations, allowing greater control of the grid and lower operational costs.
IBiS Networks
IBiS Networks produces "InteliSockets" that fit snuggly over existing power outlets. These smart socket transmitters track usage data through a user-friendly software system, enabling corporations to precisely measure energy consumption and implement effective corporate efficiency measures.
Bright Light Systems
Utilizing certified efficiency technologies, such as LED and light emitting plasma (LEP) bulbs, Bright Light Systems offers efficient commercial lighting solutions without reducing brightness or durability—each light is constructed from marine-grade stainless steel and aerospace aluminum. And with an average lifespan of 50,000 hours, the longevity of Bright Light's bulbs allows for additional savings.
Know of any green energy startups looking to take the next step? There's still time to apply for Energy Excelerator's 2014 program. The application period closes on September 27.
Produced by: Patrick French