You are here
Are You Green Enough?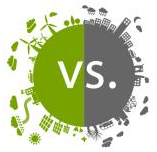 Inside The City of Chicago's Green Office Challenge
Chicago's competitive spirit may be taking a hammering around the nation's baseball diamonds but it's being re-energized by the City of Chicago's Green Office Challenge. Literally.
About the Green Office Challenge
The City of Chicago co-created the Challenge in 2008 with ICLEI USA. Together, they wanted to create a collegial and inclusive way to reduce energy consumption in the Loop. The Challenge has since branched out into River North and, with support from companies such as Office Depot and Delta Institute, it's now open to all Chicagoland businesses.
After just three years, the Challenge was already making a big impact:
• Over 263 offices and 98 buildings participated in 2011
• Spending $17,503,891 less on energy
• Saving 124 million kilowatt-hours (equivalent to ~45K homes)
• Reducing more than 85,000 metric tons of carbon emissions
How the Challenge works
The voluntary program is free to Chicagoland companies and runs from February through October, though new companies can jump in at any point. Participating businesses win points along the way for curbing consumption of materials, water and energy.
Aside from this core focus, businesses are also encouraged to take part in various subcategories, such as innovation, transportation, education and community outreach. Winners at the end of each round receive an award from Mayor Rahm Emanuel and traditionally get good media coverage.
What's new this year?
The Challenge aims to broaden the base of participants in 2013. As Alex Moree, from the Delta Institute explained in a recent UR Chicago Magazine interview, they want to see Chicagoans "learning more about how they can save energy and why that matters."
A new, user-friendly website makes it quicker and easier for offices to register and for browsers to see who's participating. There's also a "Knowledge Base," providing tips on green office practices and listing relevant events. You can follow the Challenge on Twitter via @ChiGreenOffice or on Facebook.
Sustainable city
It's a big year for Sustainable Chicago. Besides co-running the biggest ever Green Office Challenge, they're also marking the first anniversary of their 2015 action agenda. The agenda maps out City Hall's plan for a more sustainable Chicago and we'll be providing updates as the City tracks progress against key milestones.
Posted by: Alex Yester